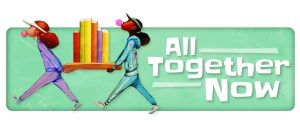 "All Together Now": You are Invited!!
Ogema Public Library 2023 SLR
Aug. 3: All Together Now
Aug 10: 4-H "All Together Now" Kindness, Friendship, and Unity
Aug 17: Bee Helpful
Local Beekeeper, Andy Hager, coming to speak
Aug 24: KINDNESS Celebration
This is a free program for children ages 4-12 and is open to children of all abilities. There will be a variety of games, challenges, snacks, and stories.
You will be tracking the number of minutes you read or someone reads to you and receive a brag tag for every hour. These tags are good for the final celebration on Aug 24th. Parents are winners too with Participation Prizes. Join us Thursdays in August from 12:30pm – 2:00pm!!!